Interactive exhibition and performances
15 to 19 October 2023, 2pm to 6.45pm – Ateliers Presqu'île
In partnership with the Plateforme Théâtre de résistance www.resistancetheatre.org
The TNG and Sens Interdits are supporting this project because of the strength of its political stakes: making it possible to disseminate, via a digital platform, the creations and testimonies of Russian dissident artists (exiled in France and elsewhere in Europe).
Le musée des histoires (non) imaginées presents the works of Russian-speaking dissident artists forced to settle in France after the start of the Russian invasion of Ukraine. The exhibition invites artists from different generations and artistic disciplines, united by their disagreement with the policies of the current Russian regime.
Each artist is invited to tell his or her story of creative activism through theatre, circus, drama, sound installation and multimedia.
The exhibition is part of a 3-month residency programme hosted by the TNG.
ARTISTS :
Vika Privalova
Esther Bol
Alexey Nadzharov
Alexandra Poldi
Georgy Bogachev
Shamil Shaaev
Curated and designed by: Artem Arsenian and Nika Parkhomovskaia
Visual and sound space: Eldar Karkhalev, Ksenia Marrokanskaya and Daniil Koronkevich, Holystick design agency
With the participation of : Marion Talotti and Vincent Hermano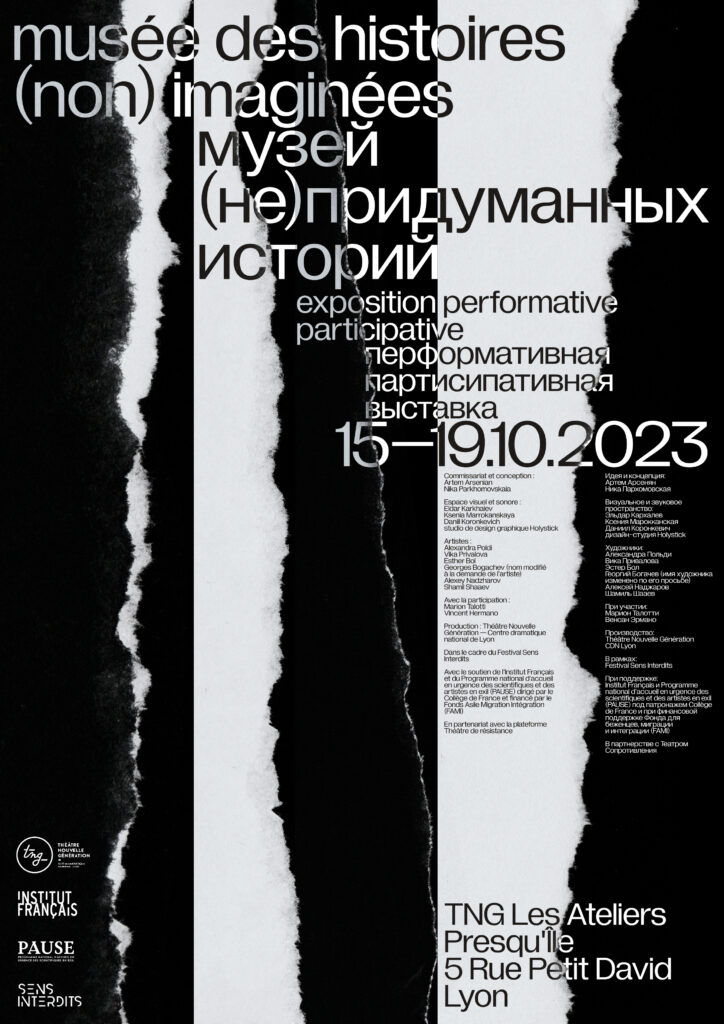 Note of intent
In the Soviet Union and later, in what we believed at the time to be free Russia, the expression "provided there is no war" was extremely widespread. But it turned out to be just another sham, fiction, propaganda tool and ideological ploy, and on 24 February 2022, when Russia unleashed a massive invasion of sovereign Ukraine, it was more obvious than ever. What do we feel when our country attacks another? Pain, fear, despair, shame, guilt. The spectrum of emotions is wide, but for many their consequence is unequivocal: the only possible decision is to leave one's country in order not to be an accomplice to the crime, to keep talking, to create another future, an alternative future. It was in this difficult context of relocation that the Institut français, the TNG theatre and the Sens Interdits festival offered us their help. As a result, a major collective project involving a number of Russian-speaking theatre producers in exile has emerged as part of a creative residency in Lyon, which will come to fruition in autumn 2023.
What mattered most to us when we learned that the French cultural institutions were going to support us was to bring together as diverse a group of artists as possible, from different generations, backgrounds and media. Of course, above all we wanted to give a voice to those who denounce the unacceptable nature of war, dictatorship and repression, to those for whom it is important not to remain silent on these difficult subjects, to those who need to be heard. This gave rise to the idea of a joint participatory performance exhibition, a sort of museum of (un)imagined stories, in which all the pieces are linked in one way or another to the current war. In the course of lengthy collective discussions, the general concept of the exhibition was formulated by the curators Artem Arsenian and Nika Parkhomovskaia, and the works to be exhibited were defined in broad terms, each reflecting the artists' current state of mind and the nuances of their individual positions in relation to everything that is happening around them and to themselves.
Playwright Esther Bol traces Russia's crimes in Ukraine, creating an auditory tangle of fact and sensation, while director Vika Privalova draws our attention to the stories of those who remained in the country, creating a kind of psychological portrait of Russian society. Multimedia artist Shamil Shaayev tells us how people from the LGBTQ+ community, de facto outlaws, continue to live and love, while composer Alexey Nadzharov shares his thoughts on his own 'invisibility'. Alexandra Poldi, the new circus artist, invites the audience to play "new life" – an interactive game inviting them to find their fragile balance. George Bogachev, forced to hide under a pseudonym, invites the public to hang black and white photographs in any order they choose, creating an 'alternative' account of his life. They all interact simultaneously with each other and with the scenic space created by set designer Eldar Karkhalev, sound designer Daniil Koronkevich and composer Ksenia Marokkanskaya.
At the centre of this little improvised museum, made up of a single room and a multitude of (un)imagined stories, is a dark room – the chambre noire – and, inside it, photographs from our Russian past; from the screens and headphones echo the voices of a present that is not yet foreign to us. From this 'double' object, a kind of foundation for what is happening to us today, our torments and questions about the war spread like circles on water. We feel and reflect on the moment, sometimes realising that our feelings, our thoughts and their formulation have not yet 'stabilised', that they are often momentary, but that they are at the same time alive and real, and that it is important for us to share with the public exactly what is happening to us here and now.
We hope that we will be heard and that our collective act of resistance (the exhibition is organised in partnership with another Russian anti-war project, the Theatre of Resistance) to totalitarianism, war and dehumanisation will not be in vain. Despite everything, we continue to believe that art, solidarity and free expression can, if not change the course of history, at least influence it.
Biographies
Curated and designed by :
Artem Arsenian is a theatre producer and curator. Born in Krasnodar, he has lived and worked in France since 2022. He has been associated with independent projects and performance spaces in St Petersburg, participating in the Access Point and New European Theatre festivals, which ceased their activities following Russia's invasion of Ukraine. He has collaborated on several occasions with Rimini Protokoll, Tassos Stevens, Boris Nikitin, L'encyclopédie de la parole, SIGNA and Semion Alexandrovsky. Involved in decolonial activism and related research, he is a member of the council of experts of the Hume Foundation, a producer of the Chronotop association and a member of the Atelier des artistes en exil.
Nika Parkhomovskaia is a playwright, producer and theatre researcher. Born in Saint Petersburg, she has lived and worked in France since 2022. She is a graduate of the Russian State Institute of Performing Arts and the School for Theatre Directors. Editor-in-chief of Théâtre magazine, she works as an author with various media and gives lectures on the history of theatre and dance, management and social design. Formerly executive director of the Nouveau théâtre européen festival and director of the Nouvel Espace at the Théâtre des Nations, she won the Masque d'Or award for her play Exploration de l'horreur. In 2022, she co-organised a support group for Russian-speaking cultural actors in exile in France and the ON/OFF platform for Russian-speaking artists in exile in France.
Set design :
Eldar Karkhalev was born in Astrakhan and has lived and worked in France since 2022. He studied theatre set design, painting and new media art. For over 15 years, he has worked in the film industry as a set designer. The films for which he has designed sets have won prizes at the Venice, Cannes and Berlin film festivals, or have been included in the official selections. Eldar is also the author of comic strips and art projects dealing with intimacy, memory disorders and the perception of reality.
Design :
The graphic design studio Holystick was founded by Mila Silenina, Yana Etkina and Yulia Kondratieva in 2019 in Moscow. Holystick works actively with cultural institutions and independent projects. For each project, whatever its scale, Holystick aims to express the concept in its integrity. The team is convinced that everything is linked in creation, but that there must always be room for serendipity.
Sound space:
Daniil Koronkevich is a composer, sound engineer and theatre sound designer. A former geophysicist, he has taken part in expeditions to various remote regions of Russia (Altai, Chukotka, Kola Peninsula). He wanted to transpose the experience he gained on his travels into his music. He works at the New Media Laboratory of the New Stage at the Alexandrinsky Theatre and in various theatres in Russia and abroad.
Ksenia Marrokanskaya is a composer, singer, pianist, poet and researcher of sound and listening. She trained as a pianist and art critic before specialising in avant-garde jazz and early music. The compositional style of her solo works is measured and clear, the songs are reminiscent of the music of the minimalists and romantics, and the lyrics are closely linked to Russian poetry of the mid-twentieth century. She creates experimental sound works for theatre and film, plays improvised concerts, and searches for new forms with piano sounds, voice, synthesizers and field recordings.
Artists:
Alexandra Poldi is heiress to a famous circus dynasty, aerial gymnast, performer and director. Born in Moscow, she has lived and worked in France since 2022. Tata (the name by which she is known to her colleagues and audiences in Russia and Europe) is a graduate of the Russian Institute of Theatre Arts and a prizewinner in international circus and theatre festivals and competitions. She has taken part in school exchanges with the Centre national des arts du cirque (Cnac) and the Salon mondial du cirque. She has worked at the Nikoulin Circus in Moscow, taught and directed at the Upsala Circus – the world's only circus for hoodlums. Over the years, she has worked with independent companies and street theatres such as ISOBIKE, Liquid theatre, Cirque des Antiquités, Les gens de Feu and Low Tech Studio.
Vika Privalova is a multidisciplinary artist, activist, director and film-maker, and a member of the rights and anti-war communities. Born in Siberia, she has lived and worked in France since 2022. She is a graduate of the directing faculty at the National Cinematography Institute in Moscow. She has directed plays and performances, created installations and was nominated for the Masque d'Or for her play Salut, maman! She has taken part in artlabs and residencies in Europe. After the start of Russia's massive invasion of Ukraine, the artist received threats and all her projects were cancelled because of her openly anti-war stance. Since 24 February 2022, she has been keeping the Kiev Diary. Coordinator of the feminist anti-war Resistance and curator of Art to help – an activist art project supporting vulnerable populations.
Esther Bol [Asya Voloshina] is a playwright, theatre theorist and author of texts for the theatre. Born in Rostov, she has lived and worked in France since 2023. In 2013, she obtained a master's degree from the Russian State Institute of Performing Arts. Her texts have been used in some fifty productions in Europe and Russia. As soon as Russia began its mass invasion of Ukraine, she left the country for good. Marking the totality of the catastrophe, the insurmountable nature of the rupture and the impossibility of any form of return, she changed her name. Today, most Russian productions based on her texts are banned. Her play Crime will soon be published in France by Maison d'Europe et d'Orient – Editions l'Espace d'un instant.
Georges Bogachev (pseudonym) is a photographer, performer and film-maker. Born in Siberia, he lives and works in Russia. A graduate of Irkutsk State University, he has taught in secondary schools and taken part in geological expeditions in Yakutia and the Magadan region. He is also a graduate of the documentary film-making department at St Petersburg State University, and has taken part in numerous artistic residencies and documentary film festivals. He owes his pseudonym to his two great-grandfathers. One fought with the Red Army during the Civil War and served in the Disciplinary Battalion throughout the Second World War. The second was a 'kulak', deported with his family to the Irkutsk region during Stalin's collectivisation, and died in exile.
Alexey Nadzharov is a composer and teacher. Born in Moscow, he has lived and worked in France since 2023. A graduate of the Moscow Conservatory, specialising in composition, he studied jazz piano. He took composition courses in Apeldoorn (Netherlands, 2010), Darmstadt (Germany, 2012) and Tchaikovsky (Russia, 2013). He has worked with the Cesaré and La Muse en Circuit centres, on the piece ("[re]current") premiered as part of the Year of Russia in France. His compositions have been performed by Studio for New Music, MASM, eNsemble, Ereprijs, Ensemble Multilatérale, Alter Ego, and Ensemble Modern. Alexey's works have been produced on CD by the FANCYMUSIC label.
Shamil Shaaev is a philologist, curator and artist. Born in Ufa, he has lived and worked in France since 2023. He is a graduate of Bashkiria State University in Ufa and the Free Workshops of the Moscow Museum of Modern Art. In 2020, he was shortlisted for the Turbulence competition organised by the Culture and Creation Agency at the Cosmoscow Contemporary Art Fair. He is co-founder of Disk, a self-managed group of artists and curators. He has worked as coordinator of the programme of conferences and exhibitions at the ZAMAN museum in Ufa. He also curated the NAFISA project, supporting women artists in Bashkortostan. Since 2023, he has been studying at the Haute école des arts du Rhin (Strasbourg).
Artworks
My new life by Alexandra Poldi
The interactive game My New Life symbolises the new reality in which Russian-speaking artists in exile find themselves. The game field is a platform divided into three parts of different colours: red represents physiological needs and security; blue – social and personal needs; white – creativity and personal development. Next to the platform are objects symbolising spiritual values, daily necessities and the principles of life. The aim of the game is to preserve oneself and find balance in new circumstances.
Alexandra Poldi believes that "…sometimes you have 30 suitcases full of clothes, all your equipment, paintings, tools, your family… but you feel empty. And conversely, there are times when you have just a rucksack and no papers, but you feel free, fulfilled and light. You're not alone, you're surrounded by family, friends or simply people in the same situation as you. We cling to new opportunities, but sometimes our sanity wavers. We learn to look for balance, we realise that balance is a process in itself…".
Nonsilence by Vika Privalova :
The interactive installation Nonsilence is based on current Russian stories. The screens and headphones broadcast documentary accounts of people forced to live in a country at war, those who chose to stay, those who left and those who decided to return. These stories seem to cross the exhibition space and merge with other works on display.
For Privalova, this piece is about the possibility of speaking or (not) remaining silent when living in a dictatorship. How can you remain human within a totalitarian system, and even resist it? Audiences are free to listen to the audio texts in their entirety or in fragments. The stories are broadcast in Russian with French subtitles.
Stethoscope by Esther Bol [Asya Voloshina]
The recursive object Stethoscope is a black ball of tangled headphones that looks like a 3D model of a child's drawing of horror, or a twirling, floating clod of a life – lives. Snippets of the play Crime about Russia's criminal war in Ukraine are played through the headphones. The temporality inherent in the piece is crumpled; the fluidity is torn, as if in tatters. This is what happens with traumatic memories, when everything is mixed together; the burns, the wounds are superimposed.
The spectator can come close and receive as much pain as he or she deems acceptable: to paraphrase Susan Sontag, "listen to the pain of others". This contact through hearing is intimate, tactile and 180 degrees unfolded: we are used to being on the other side of the stethoscope, to putting our heart and breath at the centre of attention. Here, we are listening to another organism, an enormous, bleeding organism: Ukraine. Perhaps through the fragmentation, the breaks, it will be possible to touch the infinity of a 'whole'. The recursive object is part of itself. Each tragedy is part of the tragedy that it is.
Fixer by Georges Bogachev (pseudonym) :
Georges Bogachev has devoted himself to silver photography since 2010. The lens of his KIEV-4 camera captures landscapes, street and family scenes, architectural monuments and portraits of loved ones. In 2022, when war broke out in Ukraine, this series of photos continued. Today, his camera no longer confines itself to capturing familiar contours, but reveals the metamorphoses undergone by people, nature, the country and the world.
The performative photographic project Fixateur invites us to observe these images taken 'before' and 'after', to experiment with what they might say on their own, without comment or instruction from the author. In a darkroom, spectators compose their own narratives from photographs taken from film sent by the author from Russia. The photographs are hung in random order. Each time, a new narrative is created, depending entirely on the person experiencing it.
Titre perplexe de Alexey Nadzharo
La pièce proposée par Alexey Nadzharov invite à explorer la singularité de l'auto-identification dans de nouvelles circonstances. L'artiste explique que sa propre situation de déplacement a coïncidé avec le développement dynamique des technologies des réseaux neuronaux et la recherche de réponses aux questionnements sur l'importance des choses familières qui l'entourent, de ses activités, sur la possibilité de leur existence sans qu'il n'y prenne part. Il a donc créé un objet audiovisuel génératif qui exprime sa perception du moment et la possibilité – ou l'impossibilité – de se percevoir de l'extérieur.
Nocturne by Shamil Shaaev :
It's been more than six months since the Russian Federation adopted a law on the "protection of traditional values", which discriminates against all the country's sexual minorities and effectively deprives them of their rights. This process began in 2013, when the government approved a law banning the "propaganda of non-traditional sexual relations to minors"; in 2022, this law was extended to all ages. In July 2023, the State Duma passed a law banning gender reassignment. Vladimir Putin has also ordered the creation of a new psychiatric institute where, among other things, the "behavioural tendencies" of LGBTQ+ people will be studied.
The video project Nocturne, shot by the author's LGBTQ+ friends in the evening and at night, is a reflection on all these events and an attempt to capture them in metaphor and imagery. The protagonists of Nocturne are public spaces under 24-hour surveillance and ordinary people captured in their homes at night. We seem to be entering their intimate lives, which continue to exist despite all the restrictions. It seems easier to go unnoticed at night, but night can also be a source of anxiety, terror and heightened feelings of loneliness.
---
Production: Théâtre Nouvelle Génération – Centre Dramatique National Lyon
As part of the Sens Interdits Festival
With the support of Institut Français and Programme national d'Accueil en Urgence des Scientifiques et artistes en Exil (PAUSE) managed by the Collège de France, and funded by the Fonds Asile, Migration et Intégration (FAMI)
In partnership with the Théâtre de résistance platform